Everyone's favorite beer-drinking, cigarette-smoking, cuss-word-slinging, food-focused travel guide once said Singapore is "as close to foodie heaven as it gets." And Singaporeans, he said, have a "seemingly inexhaustible love of food." The same man suggests that the richness of this food culture comes from the hawker centers scattered throughout the city-state. Most meals, the New York chef says, should be consumed at a hawker center.
Singapore is a melting pot of Malay, Chinese and Indian cultures. Hawker centers have become the "cultural crossroads" where food introduced by these neighboring peoples all meet. The hawkers (or street-food vendors) were moved into centers in the 1970s as a way to better regulate the hygienic standards of their food preparation. Although hawker centers resemble shopping mall food courts, their food is much more ambitious: these centers are the go-to spot for both locals and tourists, serving up some of the best dishes Singapore has to offer. As if we needed any more convincing of their awesomeness, the food is also crazy cheap. Your entire meal from a hawker stall generally will cost you as little as $5.
In partnership with Singapore Tourism Board, we're breaking down the best hawker centers in this small country that is quickly becoming a global food giant.
Golden Mile Food Centre – 505 Beach Road
Its Thai, Malay and Indian food stalls have made Golden Mile famous. Hit up Haji Kadir & M Baharudeen Sup Tulang for an order of sup tulang, which translates tobone soup. It's a bright red color and favored among many for the delicious mutton-bone marrow that marinates in chili sauce (diners suck the marrow from the bones with straws). While this dish is on the menu at many other stalls throughout Singapore, Golden Mile is regarded as the go-to food center to order it.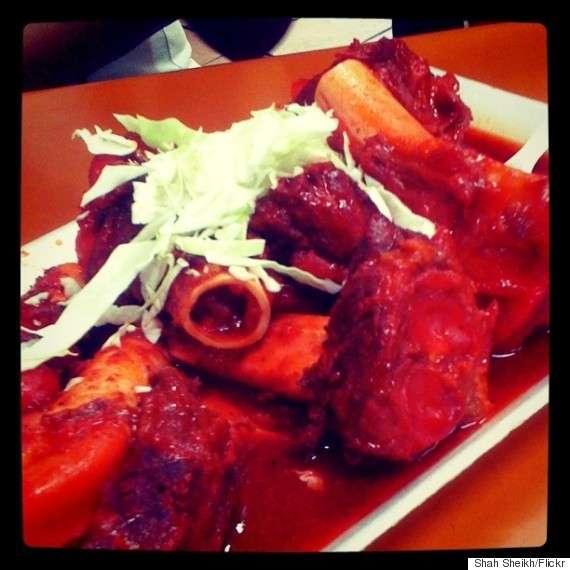 Maxwell Food Centre – 1 Kadayanallur Street
This is the place to go for the deceivingly simple dish and Singapore diet stapleHainanese chicken rice. The chicken is boiled and then quickly cooled, sliced and served with rice that's been cooked in chicken broth — infusing the rice with a deep flavor that belies its bland appearance. The Tian Tian Hainanese Chicken Rice stall is the place to go for this.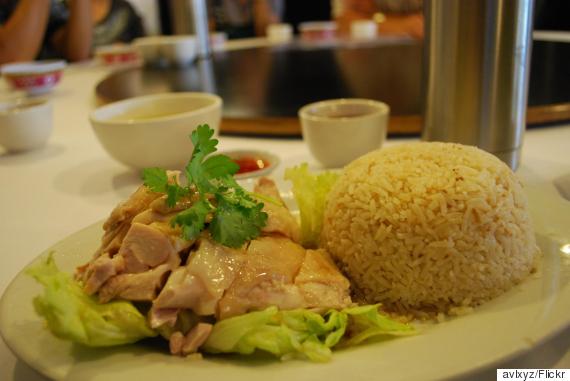 Haig Road Market & Cooked Food Centre – 14 Haig Road
This food center is one of the few to have stalls that serve putu piring, a steamed cake made of rice flour. Find it at a stall called (if you haven't guessed the pattern already) Traditional Haig Road Putu Piring. Also known in some parts of the world as kueh tutu, these small cakes are topped with grated coconut and filled with molasses-like filling made of melted palm sugar.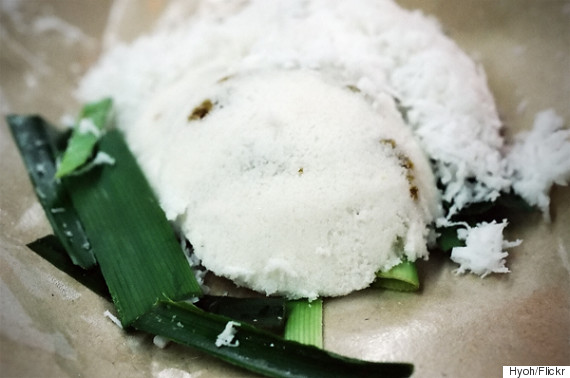 Bedok Interchange Food Centre – 1 Bedok Road
Eaters in the know flock here for many savory reasons, including the carrot cake atSong Zhou Luo Bo Gao. This is a far cry from the American dessert; for one thing, it doesn't actually contain any carrots. The main ingredient, white radishes, is known locally as white carrots — hence the name. It's a tasty and high-cholesterol take on fried rice with garlic, eggs and onion. Pro tip: getting your carrot cake "black" tells the cook you want rice fried in soy sauce instead of basic white rice.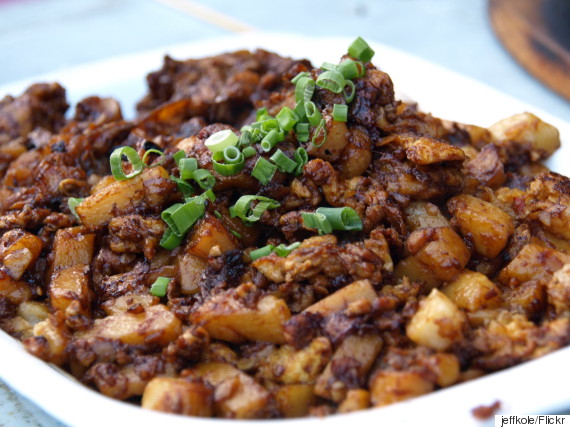 Zion Riverside Food Centre – 70 Zion Road
Considered small relative to other food centers throughout Singapore, this open-air location nevertheless garners rave reviews for its food (not to mention its views). Gin Hai Seafood is known for both rare and traditional seafood dishes, including the Singaporean specialty chili crab. It's a whole crab cooked in a wok (or wok-type pot) in a chili- and tomato-based sauce that has a sweet and tangy kick to it.

Makansutra Gluttons Bay – 8 Raffles Avenue
The youngest and smallest hawker center on this list (only 12 stalls — Zion Riverside has 32), Makansutra was the opened by Singapore street-food guru K.F. Seetoh in the late 1990s. The stalls at this outdoor food court offer the new and old of Singapore's diverse cuisine. Satay with an 18-spice marinade from Alhambra Padang Satay is a fan favorite: Customers have their choice of chicken, beef, mutton, duck and prawns.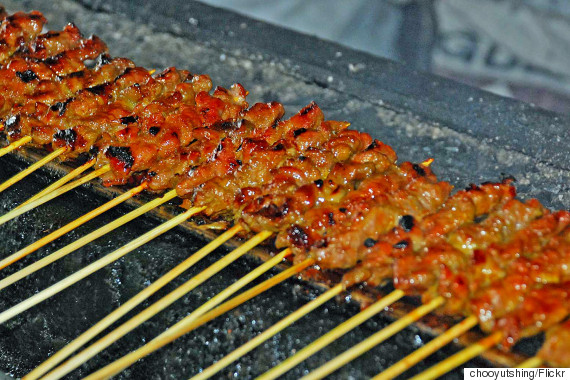 Tanglin Halt Market – 48A Tanglin Halt Road
This center's location far from the city's epicenter doesn't deter people from lining up early in the day for peanut pancakes from Tanglin Halt Original Peanut Pancake. In true mom-and-pop fashion, the couple who run the stall hand-pick, roast and grind the peanuts used in their popular pancakes.