1/ Abduction of a Thai woman
Hitomi Soga, a victim of abduction who came back to Japan with her husband Robert Jenkins, testified in 2005 that there were 3 American ex-servicemen in North Korea who, like Robert Jenkins, had deserted the army. Their wives had all been abducted: Anocha, (Thai), Shiham (Lebanese) and Doina (Romanian).
In October 2005, Soga and Jenkins' testimonies were largely aired in the Thai media which prompted Anocha's family to come forward. In November of the same year, the Association of Families of Victims Kidnapped by North Korea (AFVKN) and the National Association for the Rescue of Japanese Kidnapped by North Korea (NARKN) came to question the victim's family. They learned the following facts:
Anocha

disappeared in Macau in July 1978.
She was apparently forced onto a boat while she had been guiding.
a so-called Japanese tourist on the river bank.
Her family consists of her father and brother.
She was working as massage therapist in a hotel before her disappearance.
These testimonies concur perfectly with those of Soga and Jenkins. The Thai government then asked the North Korean authorities to conduct an investigation into this affair, but they received the reply that no woman corresponding to Anocha exists on their territory. Thailand continues to demand accountability from North Korea.
2/ Lebanese abductions
Even before Hitomi Soga testified, the case of Shiham Shratiteh's abduction was publicly known. In July 1978 Shiham, along with three other young Lebanese women, had been promised jobs in a Japanese company, but found themselves taken to North Korea. In 1979, two of them managed to escape while they were in Belgrade. The Lebanese government demanded that North Korea liberate the other two woman, which it did in 1979 . Shiham, however, pregnant to an American deserter who had fled to North Korea and whom she had married, decided to return to North Korea and still lives there.
3/ Abduction of a Romanian woman
Doina Bumbea, a young Romanian who had gone to Italy to study art history was offered a career as a painter in Hong Kong or Japan in July 1978. She fell into the trap and finished up in North Korea. There she married an American deserter with whom she had two children. From 1984 she shared an appartment with Soga and Jenkins, and died of cancer in 1997. Her Romanian father and Russian mother live in Romania. The information concerning Doina was transmitted by Japan to the Romanian authorities through diplomatic channels, but to this day, no missing Romanian citizens match her description. The Romanian government has inquired about Doina in North Korea, but North Korean officials have said that this woman was never found on their territory.
4/ Abduction of Chinese women
On July 2nd 1978, the day Anocha, the young Thai woman was kidnapped, two Chinese women from Macau, Hong Leng-ieng (20) and So Moi-Chun (22), also disappeared. The same fake Japanese tourist who tricked Anocha was also instrumental in the disappearance of the two Chinese girls. They were both jewellery sales assistants at the Hotel Lisboa.
Aside from that, the South Korean actress Choi Un-hee, who was kidnapped by North Korea in 1978 and managed to escape in 1986, testified that she had been friends with a Chinese girl from Macau called Hong.
In December 2005, the AFVKN and the NARKN came to ask her for details about Hong Leng-ien before regrouping this information with the victim's family in January 2006. The associations confirm the following points:
Hong Leng-ieng's mother and brother are in Macau.
Her father who was unable to flee to Macau with the rest of the family was left in China.
Her father is a teacher and her mother a dress maker. At senior high school Leng-ien played volley-ball. She renounced going to university in order to allow her little brother the chance to go.
She worked as a sales assistant in a jewellery shop at the same time as being a tourist guide.
She was 20 years old when she was abducted, and a catholic.
5/ Abduction of French, Italian and Dutch women
The Lebanese victims who were able to escape and return to their country in 1979 were immediately questioned by the Lebanese government. The Lebanese newspaper <EL NAHAR> (published in Arabic), dated the 9th September 1979, reported the testimonies of European victims of abduction.
« After our passports were confiscated, we were sent to a camp. We were given spy-agent training through activites such as judo,Tae Kwon Do and karate, and we were also taught illegal eavesdropping techniques. At the same time, we were constantly brain washed with the doctrines of Kim Il-sung.There were 28 young women in the camp, from Europe or the Middle East. Among them were three French, three Italian and two Dutch women. It was impossible for them all to rebel against their captors.»
Here is a more precise testimony about one of the french victims: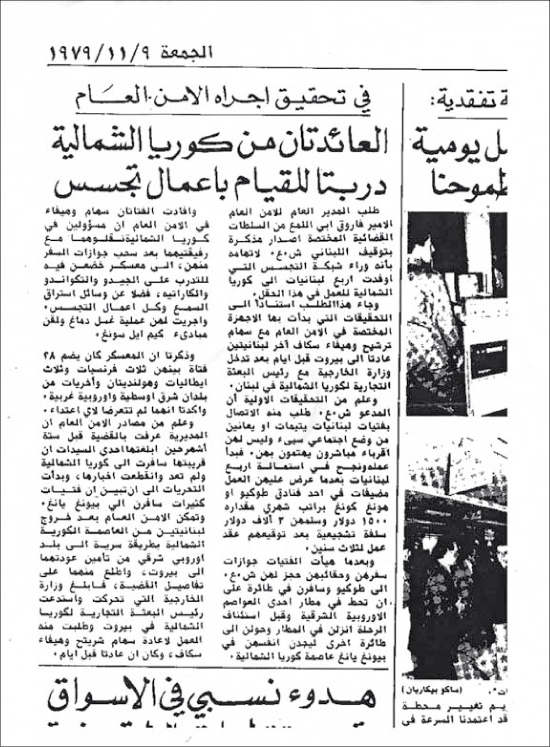 Article in « El Nahar »(Levanese newspaper)
Choi Un-hee's testimony
«A Korean agent sent to France pretended to be a rich Asian heir. He approached young French women and seduced them with his trappings of wealth. One of them could not resist the temptation of money and agreed to get engaged with the North Korean agent. Inviting her to travel to China to celebrate their engagement, the spy took the opportunity to take her back to North Korea.
Arriving at the airport in Pyongyang, the spy disappeared and another came to pick up the young French woman. She asked him to help find her friend but he replied that no person matching his description was there. The new agent took her to the 'guest house' and brainwashed her.»
Choi Un-hee revealed that this information came from a hairdresser who was allowed to enter the guests' residence.
Hyon-hui Kim's testimony
Hyon-hui Kim, the former North Korean spy responsible for the terrorist attack on a Korean Airlines, described in her memoires similar remarks as Choi Un-hee, that she heard from a woman working in the guests' residence who took care of the vicims.
« A pretty foreigner arrived recently. She told me that she had been tricked by a North Korean agent who had brought her here. But the agent had vanished, and the young woman wouldn't stop asking about looking for him. They beat her everyday, telling her to stop talking nonsense.»
6/ Abduction of a Jordanain woman
In North Korea, Choi Un-hee also met a Jordanian woman who had very probably been abducted.
« From December 1978 until the spring of 1979, I was living in residence No. 4 in Pyongyang. During a walk, I exchanged a few words with a young woman of about twenty who told me she came from Jordan. At the time I was wearing a woollen hat that I knitted myself.
Through one of the guards of the residence, she asked me where I had bought my hat. I told her that I had made it myself. Afterwards I knitted one for her and sent it to her as a gift. To thank me, she sent me a handkerchief for Christmas.»
7/ Abductions of 4 Malaysian women and a Singaporean woman
On the 20th August 1978, five women were kidnapped in Singapore. Two men claiming to be Japanese asked an escort agency to send five young women to join in on a party on their boat. These young hostesses aged from 19 to 24 years old disappeared, along with the boat, without a trace. There were four Malaysians: Yeng Yoke Fun (22) Me Yap Leng (22), Seetoh Tai Thim (19), Margaret Ong Guat Choo (19), and a Singaporean, Diana Ng Kum Yim, (24).
The common factor between the kidnappings in Macau and Singapore that is the main suspect was a so-called Japanese man. When the police showed his identikit sketch to the manager of the Singaporean escort agency, he confirmed that it strongly resembled the criminal who had kidnapped the five young women.
December 16, 2005, the elder brother of Yeng Yoke Fun demanded the release of his sister during a press conference at the headquarters of the Malaysian Chinese Association (MCA).
While she was in North Korea, Choi Un-hee heard from a woman that a couple of Malaysians lived in another residence, but it is not certain that there is any connection with this case.
8/ Context of abductions by North Korea in 12 countries.
Cases of abductions by North Korea throughout the world are concentrated in the late '70s. 1978 is the confirmed year of the kidnapping of the young Thai, Lebanese, Chinese, Malaysian and Singaporean women. With regard to the abduction of the French, Italian, Dutch women and the Jordanian and Romanian woman, the evidence indicates that they were committed during the second part of the '70s, like the majority of Japanese victims. In South Korea, five high school students were kidnapped on the coast of South Korea between 1977 and 1978.
Ahn Myung-ji, a former North Korean agent has declared: « The abductions began in the '60s, but it became a serious issue in the mid '70s. In 1976, instructions were given that officers were to receive training to enable them to be considered locals during infiltration. The aim was to bring foreigners into North Korea to be indoctrinated. The Japanese were the first target, followed by South Koreans, Arabs, Chinese and Europeans.
Other former North Korean agents gave virtually the same testimonials as Ahn Myung-ji. Kim Jong-il, the despot who ruled North Korea, is the main instigator of the many abductions of men and women throughout the world. An unpardonable state terrorism.